With involvement in over 40 major Dam projects Australia wide, Queensland Hydraulics is recognised as the leader in the field for hydraulic solutions, including the design, manufacture and construction of:
Hydraulic cylinders for gate actuation
Hydraulic cylinders for valve actuation
Hydraulic control cubicles for gate and valve actuation
Here are some examples of major projects we have successfully completed
Ross River Dam
Design, manufacture, supply and installation of radial gate hydraulic hoisting system. Each radial gate had a dedicated power unit with built in redundancy that included a diesel driven pump designed into the power unit as well as each power unit being separately housed in a fireproof room.
Design, manufacture, supply and installation of hydraulic cylinders. On the compression stroke of the cylinder the design had to supply discipline to the compression forces and still control the load holding valves preventing the gates from running away (collapsing)
Design, manufacture, supply and installation of hydraulic power units.
Install leak proof reticulation system. For Dam safety, each reticulation system was housed in a separate pipe culvert.
The Dam has been in operation since 2007, it withstood the 2014 floods, with the only ongoing service being the changing of the oil.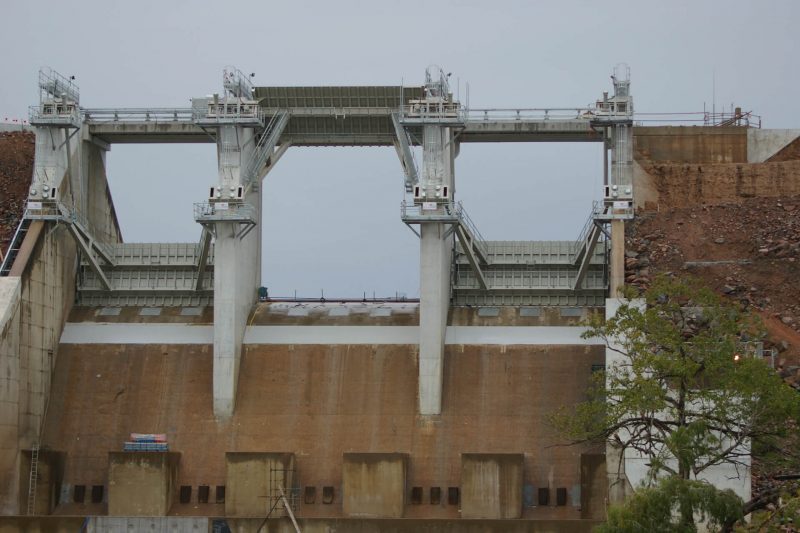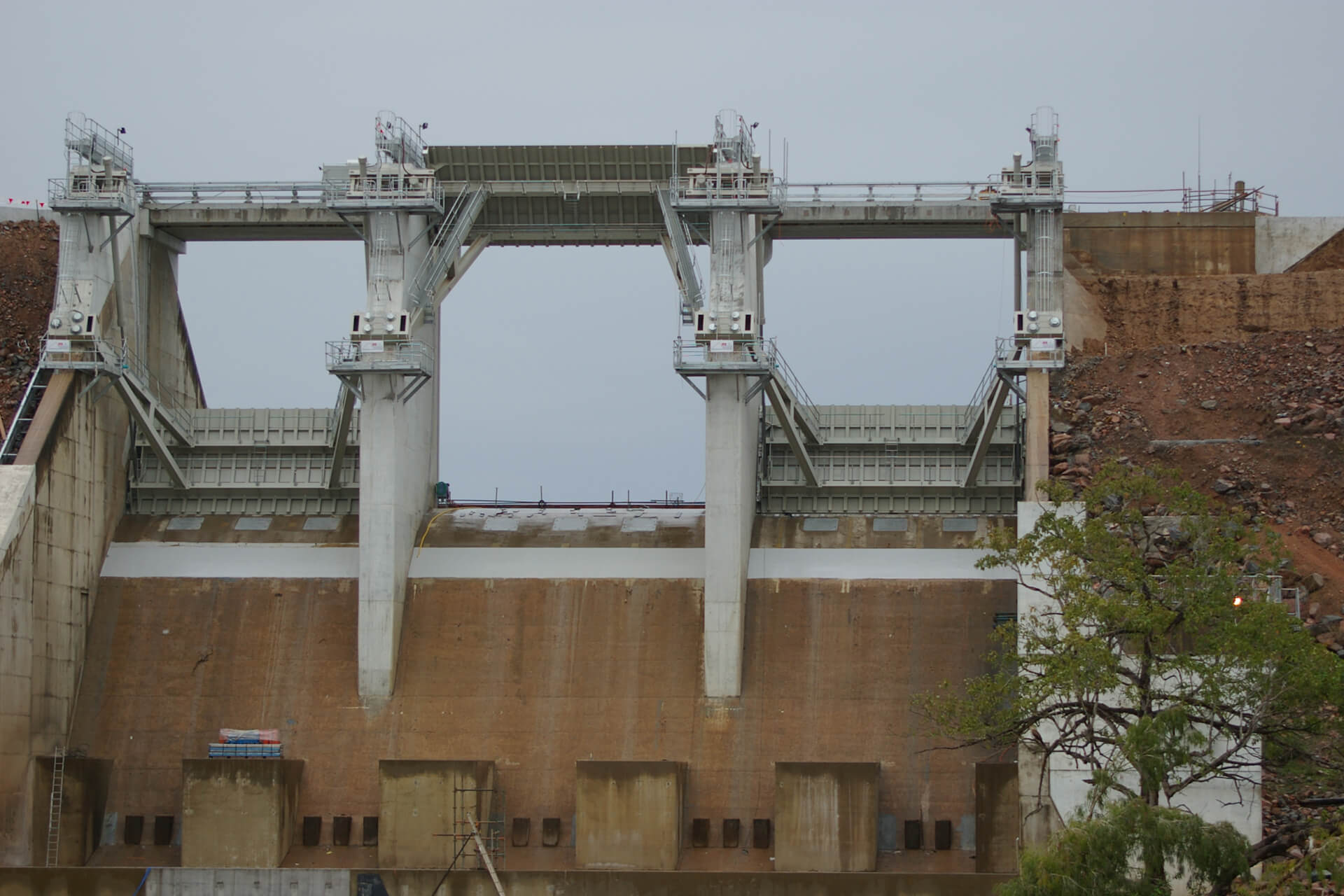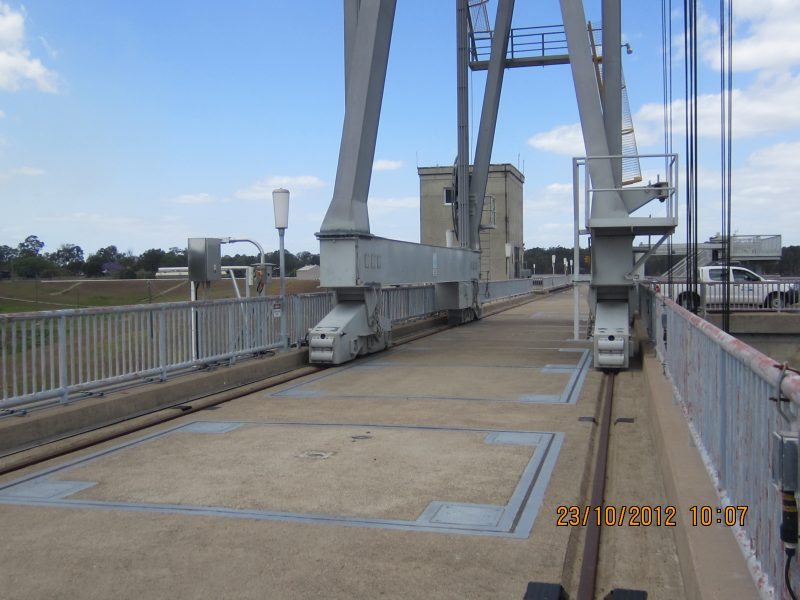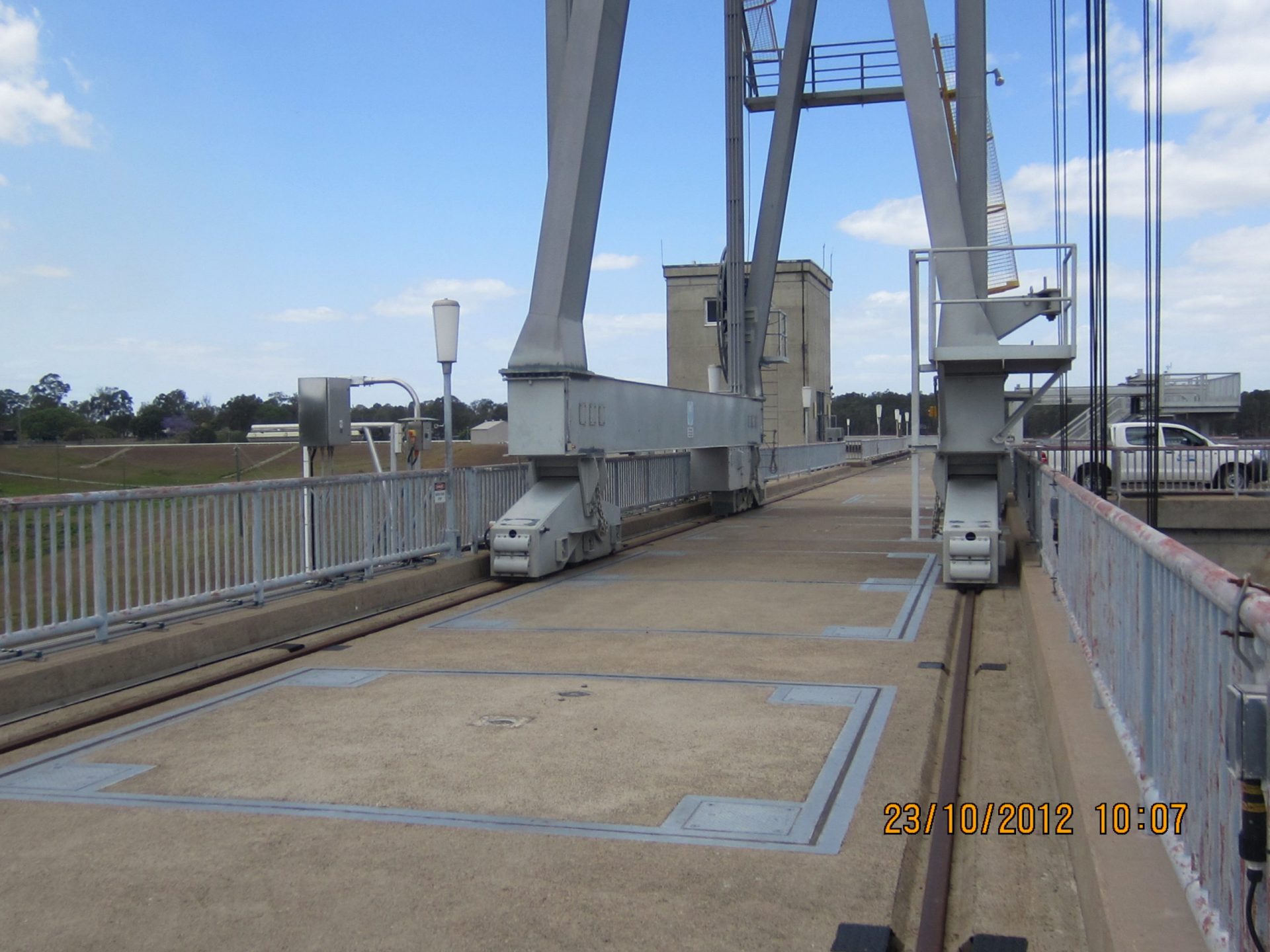 Northpine Dam
Design, manufacture, installation of emergency hydraulic drive system for operation of radial gates
Design and manufacture of emergency mobile (trailer mounted) hydraulic power unit
Implementation of Hydraulic reticulation system to allow all gates to be driven simultaneously
Following the 2011 Queensland floods, Queensland Hydraulics was engaged by SEQ Water to complete a major up-grade of the radial gate drive system at the North Pine Dam. The project was completed with the gates fully operational (excluding an 8 hour changeover period) by SEQ Water
Hinze Dam
QLD Hydraulics was selected by the American gate manufacturer Rodney Hunt to design the 450mm bore gate actuators, the hydraulic electrical control system and the reticulation circuitry for this project.
The Dam has been operation since 2008. Inspection in July 2020 showed all components in excellent working condition with no leakage of oil in the reticulation system.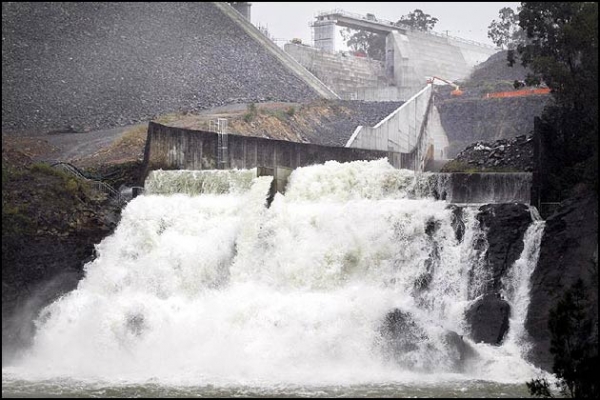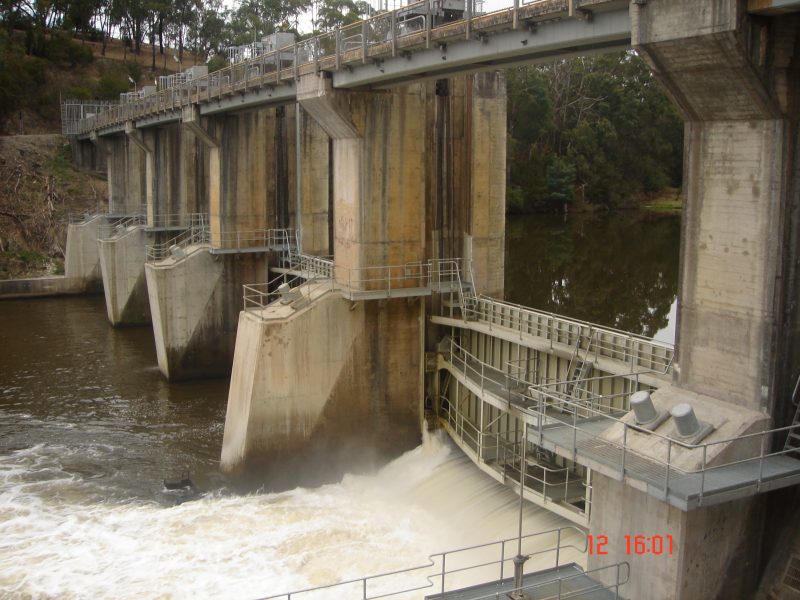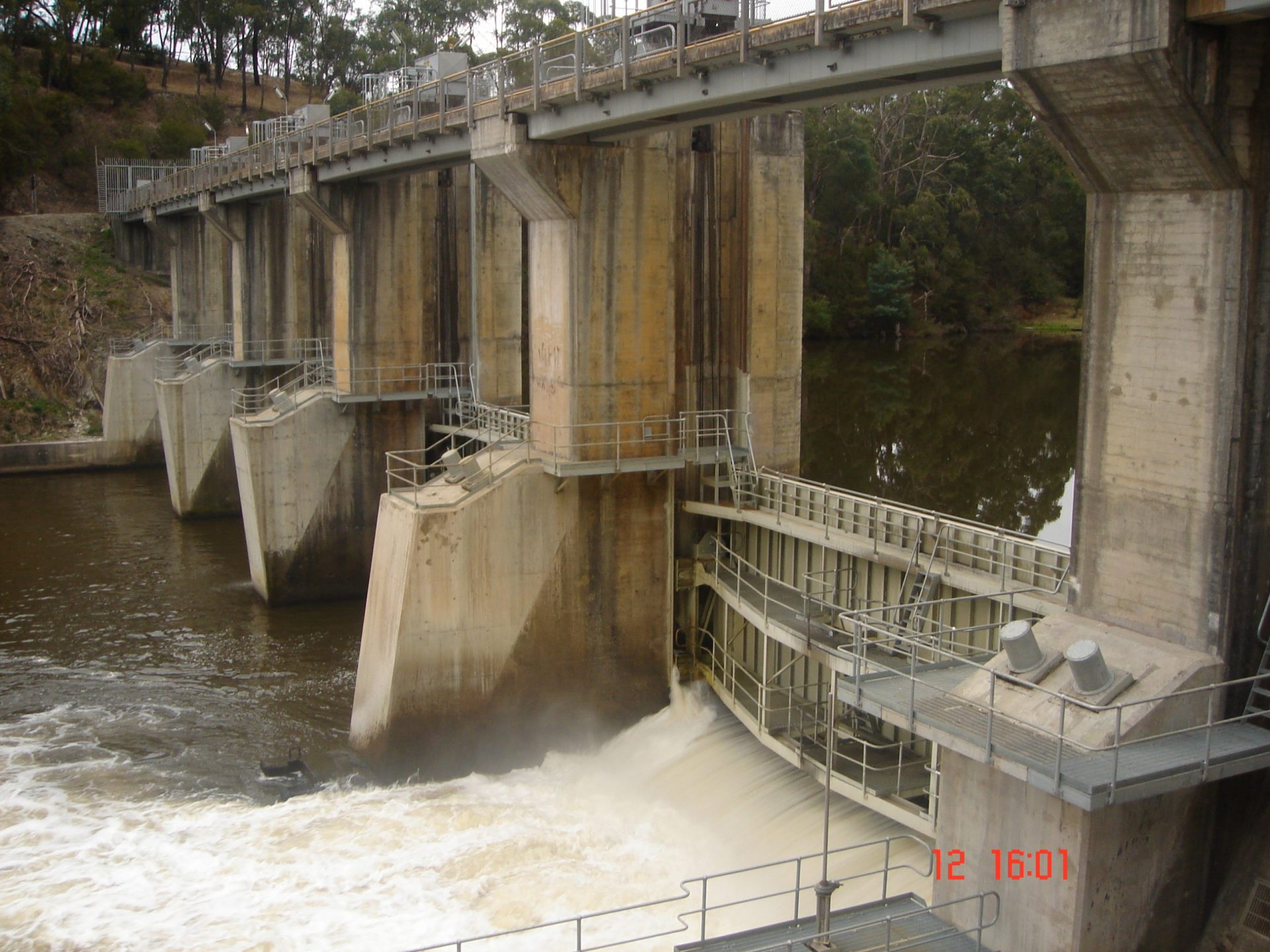 Lake Narracan, Victoria
Design, manufacture, supply and installation of outlet gates, hydraulic winches, and power units
QLD Hydraulics designed, manufactured and installed hoisting winches for hoisting mechanism, including slack rope indication. This involved four gates and the ends of each gate contained a winch which was synchronised
Completed Projects
PROJECT
LOCATION
CLIENT
JOB DESCRIPTION
Avon Dam
New South Wales
G.E.C. Alsthom
Hydraulics: Butterfly valves
Bjeke Peterson Dam
Queensland
Sunwater
Hydraulics: Outlet works
Burnett River Dam
Queensland
Burnett Water
Design, manufacture, supply and installation outlet gates, hydraulic cylinders, and power units
Burrinjuck Dam upgrade
New South Wales
G.E.C. Alsthom
Hydraulic system outlet gate
Design, manufacture, supply and installation
Callide Dam Radial gate hydraulics
Queensland
Qld Water Resources Commission
Radial gate hydraulics
Design, manufacture, supply and installation
Canning Dam
Western Australia
Watercorp
Hydraulics: Outlet works
Cateract Dam
New South Wales
G.E.C. Alsthom
Hydraulics: Fixed cone dispersion valves
Clarrie Hall
Queensland
Sunwater
Hydraulics: Outlet works
Coolmunda Dam
Queensland
Sunwater
Hydraulic system: Gate journal, lubricating system
Copeton Dam
New South Wales
Comdain
Hydraulics: Outlet valves
Glenbawn Dam
New South Wales
Comdain
Hydraulics: Outlet valves
Glenmaggie Dam
Victoria
G.E.C. Alsthom
Hydraulics: Fixed cone dispersion valves
Harding Dam
Western Australia
Watercorp
Hydraulic system: Design, manufacture, supply, installation
Hinze Dam
Queensland
Sunwater
Hydraulic system: Control of outlet gates
Jindabyne Dam Upgrade
New South Wales
FRH Construction (AVK Glenfield)
Hydraulic system: Design, manufacture, supply and installation of 2.2M butterfly valve actuation
Kroombit Dam
Queensland
Sunwater
Hydraulics: Outlet works, fixed cone dispersion valve
Lake Narracan Outlet Gates
Latrobe Valley Vic.
Southern Rural Water
Design, manufacture, supply and installation outlet gates, hydraulic winches, and power units
Manchester Dam Upgrade
Queensland
McConnell Dowell
Electro-hydraulic system: Design, manufacture, supply and installation for dam outlet works
North Pine Dam
Queensland
Sunwater
Hydraulic system: Design, manufacture gate back-up control system
Ord River
Western Australia
Watercorp
Refurb: Hydraulic system outlet works
Paradise Dam
Queensland
Sunwater
Hydraulic system: Outlet gates
Peter Faust Dam
Queensland
Sunwater
Hydraulics: Outlet works
Pindarri Dam
New South Wales
Comdain
Hydraulics: Outlet valves
Ross River Dam Upgrade
Townsville, Queensland
John Holland
Design, manufacture, supply and installation of radial gates, hydraulic Cylinders, and power units
Scrivener Dam
Queensland
Sunwater
Hydraulic system: Refurbish radial gates
Somerset Dam
Queensland
Sunwater
Installation hydraulics/hydro pump station
Sterling Dam
Western Australia
Watercorp
Hydraulics: Outlet works
Talluma Dam
New South Wales
AWMA
Hydraulics: Outlet gates
Teemburra Dam
Queensland
Sunwater
Hydraulics: Outlet works
Tinaroo
Queensland
Sunwater
Hydro intake turbine valve
Tullaroop Dam Upgrade
Goulburn Murray, Victoria
AVK
Hydraulics: Valve actuation
Warragamba Dam
New South Wales
Comdain
Hydraulics: Outlet valves
Wivenhoe Dam
Queensland
Sunwater
Maintenance: Radial gates & hydro pump station
Wungong Dam
Western Australia
Watercorp
Hydraulic control systems Intake Valves & outlet works